In the last decade the Human Resources landscape witnessed some important changes. As companies began to explore ways in which their business could increase productivity and survive the stiff competition which prevailed in the marketplace, they soon discovered that outsourcing the HR functions was turning out in their favor and was yielding greater profits. Recent studies and research on outsourcing of Human Resource functions indicate that both large corporations and small to medium sized enterprises have benefited by outsourcing the functions which were being handled by an internal person. This has not only proved cost-effective, but has helped in reducing the time companies were investing in taking care of their employees.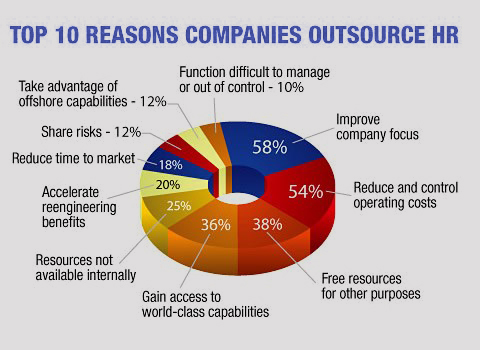 In this primer we discuss the top 5 reasons why companies should consider outsourcing the HR department:
Standardizing the process:
One primary reason is standardization of the processes. As companies begin to embrace globalization, the HR needs have increased in complexity. This in turn has led to an increase in costs. However, the solution to most of the challenges lies in taking resort to "external help". As companies across the globe begin to rely on external help,it has markedly improved the focus of their business. Consequently, this has improved the overall functioning of the organization. Surprisingly, partial outsourcing too has allowed HR professionals in an organization more time for strategizing.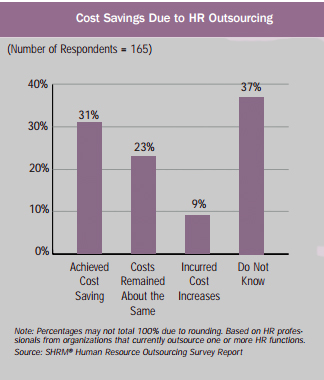 Proves cost-effective:
Most organizations will agree on the view that running an effective HR department can prove costly. Thus, most companies do their maths and hire HR professionals of global repute who act as virtual workforce. Predictably, these companies cannot include these professionals in their team permanently but can make the best of the greater expertise without incurring huge costs. Most importantly, businesses can earn greater profits as they shift their focus from peripheral activities to functions of strategic importance. Although cost-cutting is not the not the only reason for HRO, it is a major factor.
For higher accuracy:
To make processes more accurate is another important reason why companies opt for HRO. Recruiting top talent is an art in itself and can be a very challenging task. Most organizations prefer to outsource the services of professionals who can undertake this critical function successfully. Not only will they attract the best talent, but will retain the quality employees as well.
Easy access to latest technology:
When companies consider Human Resource Outsourcing,they get an easy access to latest tools and technology. An innovative service provider will be updated with the latest in technology, analytics including cloud technology. They will be aware of how to harness the potential of social media for their best interests which in turn will help the organization to meet their specific HR needs.
Achieving greater compliance
Lastly, companies improve compliance when they decide to outsourcing services. Staying in compliance can be a challenging task which includes threats of wrongful termination and violation of safety regulations and policies. In this scenario, hiring a compliance specialist is a good idea.
This sums up the most important reasons why companies are turning to outsourcing either complete or pat of their HR needs.